Details
The FastGene® Two-Component PCR Plate (FG-HD0196) is our first two-part 96-well plate in low profile to offer the best PCR performance:
Super-thin polypropylene wells allow for a quick & uniform heat transfer.

With a rigid polycarbonate frame, optimal for automated handling, with a unique identification due to the barcode.
The best of two materials
Extremely high reproducible temperature distribution due to soft wells made of polypropylen
Super rigid frame made of polycarbonate
Compatible with major (q)PCR cyclers: FastGene®, Bio-Rad™, ThermoFisher™ & many more)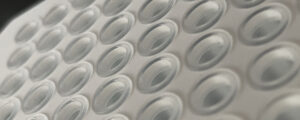 Figure: The polypropylene is connected to the polycarbonate shell!
Perfection where it matters
Japanese precision for reproducible plates
Very stringent quality control
Free of RNase, DNase and human genomic DNA
Figure: Equally formed wells and very thin walls allow reproducible temperature distribution.
Indestructible Labels (optional)
Laser-etched alpha-numeric code and barcodes
Unique plate number
Extra sharp barcode for better scanning