Details
The new way of EXCELLENT gel documentation
FastGene® FAS-X combines:
modern design,
state-of-the-art technology using the safe Blue/Green LEDs as light source,
very user-friendly software,

high quality Made in Germany.
All you need
SAFE | PROTECTION OF USERS AND SAMPLES
No risk of UV light exposure due to Blue/Green LEDs
ALL IN ONE | NO ADDITIONAL EQUIPMENT REQUIRED
Stand-alone system with built-in computer
HIGH RESOLUTION | PERFECT IMAGES
Detect even faint bands with the 20 MPixel camera
VERSATILE | ONE INSTRUMENT FOR ALL GREEN AND RED DYES
All common DNA dyes can be detected with high performance
FITS ALL GELS | IMAGE LARGE GELS OR MUPTIPLE GELS
Large illuminated area: 26 cm x 21 cm
EASY TO USE | ENJOY THE HANDLING
Large, high resolution touch screen: 13.3 inches
INTUITIVE | SIMPLE CAPTURE OF GREAT GEL IMAGES
Extremely user-friendly software for easy communication with the camera
The FastGene® FAS-X is an impressive stand-alone system. Its elegant design and small footprint (only 40 cm) allow it to fit into any laboratory environment. No external computer is required.
Enhanced interaction via the 13.3" full HD touch screen provides a simple user experience, while large storage capacity (128 GB) and network compatibility improve data management and workflow efficiency.The transilluminator is integrated into a push-to-open loading drawer ensuring absolute darkness and the best image quality without light contamination.

Perfect image quality
Equipped with a 20 MPixel colour camera, FastGene® FAS-X provides high resolution gel images and simplifies the process of selecting the area of interest on your gel.
The camera's scientific-grade 1 inch CMOS sensor offers a remarkable sensitivity, detecting nucleic acids at concentrations as low as 2 ng. This ensures that every detail is captured with precision for publication-quality images. Don't let any band go unnoticed!
The giant transilluminator with a viewing area of 26 cm x 21 cm ensures perfect illumination of your gel.
The prefocused optical unit allows you to capture images without the need to refocus, saving you time and allowing you to capture images faster.
Revolutionary and

safe Blue/Green LED light

to protect yourself and you samples
The most important innovation is the implementation of the Blue/Green LED technology (learn more about the technology).

No

harmful UV-light is used, so there is n

o risk of UV light exposure!

Commonly used UV light poses risks not only to the user but also to the sample. Blue/Green LED technology works within the wavelengths of a light spectrum ranging from 470 nm to 520 nm. This range of light is in the visible spectrum and is not harmful to the user or the DNA sample, making the gel documentation process safer.
In addition to its remarkable safety, the integrated Blue/Green LED light effectively excites a wide range of common red (incl. EtBr) and green DNA dyes as well as fluorescent proteins with very high intensity. This is achieved by accumulating the light energy absorbed by the fluorophores (figure 1).
Figure 1: BLUE/GREEN LED LIGHT IMAGES: DNA gels stained with green (MIDORIGreen Xtra DNA stain) and red (GelRed® DNA stain) DNA/RNA dyes and a protein gel stained with fluorescent protein dye (SERVA Lighting Red protein stain).
Powerful
white light
Documentation beyond fluorescent gels is possible with the additional white light. The filter wheel in the FAS-X offers the advantage of effortlessly switching between fluorescence (Blue/Green LED light) and the white light mode.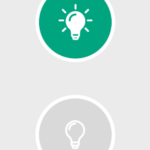 Figure 2: Lighting mode is easily changed using the touch screen buttons.
Together with the included white plate (figure 3), the white light mode can be used to visualize colourimetric PAGE protein gels with an impressive quality. In addition, high-resolution images of (colourimetric) western blot membranes or bacterial colony plates can be obtained in white light mode (figure 4).
Figure 3: FastGene® FAS-X with open drawer. Coomassie stained PAGE protein gel is placed on the white plate.

Figure 4: WHITE LIGHT IMAGES: a Coomassie stained PAGE protein gel, a colourimetric Western blot membrane and a bacterial colony plate.
Software makes it easy
The software has been designed to make operating the instrument and communicating with the camera as easy as possible.
The user-friendly interface is integrated into the touch screen and allows you to capture the best gel formations with a few simple clicks.
The software also includes a powerful editing function.
For more detailed information, please refer to the 'Intuitive software' tab on this page.