Details
High fidelity is the key
The high fidelity of the FastGene® HiFi HS (Hot Start) Polymerase is based on the improved 3`-5` exonuclease activity, which significantly reduces the error rate of the enzyme and makes it around 100 times more accurate than a Taq DNA polymerase. This is ideal for applications where high fidelity is essential, such as sequencing, cloning and site-directed mutagenesis.
Superior hot start technology
The FastGene® HiFi HS Polymerase uses a special technology with an aptamer-like molecule that gives the polymerase hot start activity that is different from the antibody-mediated hot start normally used.
The aptamer-like molecule reversibly binds and inhibits the 3′-5′ exonuclease and 5′-3′ polymerase activities of the enzyme at temperatures below 40°C. This sophisticated hot start molecule prevents primer dimer formation and non-specific amplification. It therefore maximises the sensitivity and specificity of your PCR and allows easy experimental set-up at room temperature.
Save time with the Master Mix
The FastGene® HiFi Polymerase is provided in a 2x Master Mix, which significantly speeds up the preparation of a PCR. It contains an advanced buffering system with dNTPs, Mg2+, reaction enhancers and the polymerase enzyme.
Product applications
The FastGene® HiFi HS 2x Master Mix (LS36) is ideally suited for:
Accurate Cloning
Sequencing
Site-directed mutagenesis
High fidelity PCR
Long range PCR
Any standard PCR application for which a hot start formulation of a high-quality thermostable DNA polymerase is require
Challenging PCR? Perfect for FastGene® HiFi Polymerase!
The FastGene® HiFi Polymerase is the high-fidelity enzyme for precise PCR amplifications. The enzyme was engineered in a way that it can amplify particularly long templates (up to 17.5 kb) with a high sequence accuracy. Furthermore, it shows a significant improvement in extension times (10-30 sec per kb), while generating high yields, even with difficult templates.
Amplify long fragments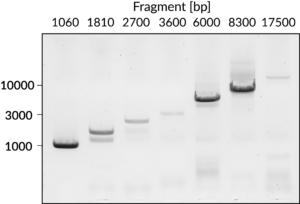 Figure 1: The FastGene® HiFi Polymerase is capable of amplifying a long range of fragments, even up to 17500 bp. (The image was generated with MIDORIGreen Xtra safe DNA dye and FastGene® FAS-DIGI PRO gel documentation system.)
Deal with tough templates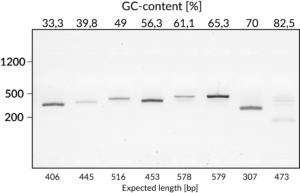 Figure 2: Templates with varying GC-content, ranging from ~30 % – 80 % can be successfully amplified with the FastGene® HiFi Polymerase. (The image was generated with MIDORIGreen Xtra safe DNA dye and FastGene® FAS-DIGI PRO gel documentation system.)
Perform easy multiplexing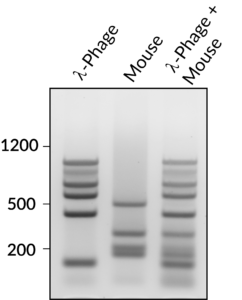 Figure 3: 6 phage DNA fragments, 4 mouse DNA fragments and a combination of both were successfully amplified with the FastGene® HiFi Polymerase in a multiplex PCR. (The image was generated with MIDORIGreen Xtra safe DNA dye and FastGene® FAS-DIGI PRO gel documentation system.)